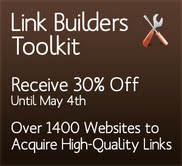 I recently had the pleasure in reviewing Mark Thompsons new link building goldmine for businesses of all sizes. I imagine Mark's target market are the smaller to medium sized businesses who don't have the budget for a consultant, or in house SEO. Instead, if you have sometime and Internet know-how, you'll be able to kick off a pretty damn impressive link building campaign all on your own.
This toolkit is designed to make link building a straight forward process with an easy to follow system that you can manage on your down time. I'd recommend setting a goal for doing only so many tasks per day, getting in done in the mornings, your lunch hour or after hours. After a couple months your site should be dominating the local search market, your niche or whatever you're going after.
What I really like about the toolkit is the diversity. You get the usual good stuff like directories, bookmarking sites, PR sites, coupon sites and SO much more. The second best part? All of it has been filtered for quality so you know you're not wasting your time submitting to low end websites.
Over 160 Blog Directories (Download the Blog Directories Tab for Free!)
Over 30 Classified Sites
Over 100 Content Sharing Sites
Over 80 Coupon/Deal Sites
Over 400 Directories
Over 40 eBook Sites
Over 25 Event Sites
Over 30 Forum Sites
Over 50 Local Sites
Over 40 Photo Sharing Sites
Over 35 Podcast Sites
Over 300 PR/Article Submission Sites
Over 35 Q&A Communities
Over 65 Review Sites
Over 60 RSS Submission Sites
Over 50 Social Bookmarking Sites
Over 50 Social Community Sites
Over 45 Shopping Sites
Over 35 Twitter Sites
Over 35 Video Sharing Sites
Over 60 Free Website Creation Sites
Over 15 Wiki Sites
As you can see this is a killer list that will take some time to complete.  I highly recommend taking the time to put the effort into your link building time here, and make sure to create quality content to spread around. A lot of these link building methods will require the content, so be prepared to factor that into either cost or time on your behalf. When you think about it, it's still WAY cheaper than hiring me or another consultant.
Website: http://www.stayonsearch.com/link-builders-toolkit
Twitter: Stay On Search
Cost: Currently 30% off for only $17.49 USD